Payroll Services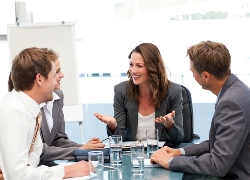 Payroll is about your people . . . and that's why we offer a payroll service with comprehensive options, including easy to use HR resources.
Your organization's strategic business goals can only be achieved with a keen focus on your core competencies.  Staying up-to-date with the ever changing and increasing payroll, tax, and employment regulations can make running your business more challenging and create vulnerabilities -- especially when it pulls your focus away from your goals. 
With your ongoing success in mind, we offer a high-quality and cost effective payroll service that can help with payroll tax compliance and provides HR resources that can help improve your productivity, cash flow and regulatory compliance, so you can focus on and grow your business.
Our comprehensive payroll solution includes:
Accurate federal, state and local payroll tax deposits and filings
Flexible payment options such as direct deposit, debit cards, or paper check
State Unemployment Insurance automatically deposited and filed on your behalf
Instant previews of your payroll liability and cash required before payroll is finalized
Secure offsite hosting of your payroll database
We offer many robust options to help you attract and retain qualified employees, including:
Comprehensive HR resources, including a Help Desk staffed by certified HR professionals
Integration with 401k and SIMPLE retirement services plans
Improved calculations of workers' compensation premium payments to avoid large upfront premiums*
Payroll is about your people . . . and people are your most valuable asset. So contact us today to learn how you can enhance your employee relations and focus more on achieving all of your business goals.

*While premium deposits may be eliminated by most carriers, mandatory state assessment fees may be required in some states.