Visit Chuck's Greenhouse FIRST -- You'll Be Glad You Did!
Submitted by

Debra Rodway

on Fri, 2017-04-21 11:14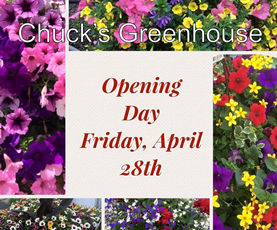 Chuck's Greenhouse is located on Rt. 45 in North Jackson, 1-1/4 miles south of Mahoning Ave.  If you haven't been to Chuck's, do yourself a favor and check it out.  They have beautiful plants and flowers at great prices.  Official opening this season is next Saturday, April 28, at 9:00 a.m..  
Chuck's Greenhouse has been a family owned and operated local business since 1995. Owners, Chuck and Jen Lehotsky, grow about 98 percent of the plants you will find at at their 22,000 sq.ft. greenhouse.
Check out this interesting behind the scenes greenhouse operations video by WFMJ TV and see how they do what they do.